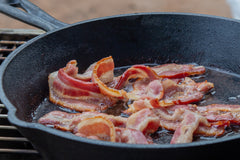 There is nothing that smells like 'welcome home' than the waft of sizzling bacon through the house… so we say 'nau mai haere mai', welcome to family and friends returning home to Aotearoa.
The beautiful thing about bacon is that it gives a subtle smoky flavour to both savoury and sweet dishes. Bacon loves maple, being crumbled on salads, in sandwiches and beside bananas. The BLT (Bacon Lettuce Tomato) sandwich is a classic, as is the bacon and egg pie. Bacon is also friends with chicken, bringing a salty hit to Italian dishes and there's nothing like a rasher sitting on top of a pattie in a burger.
The classic bacon and eggs is a staple Kiwi dish, but if you're opting for the 'full English', add beans, tomatoes, potatoes, mushrooms, breakfast sausages and black pudding.
Bacon has graced our breakfast tables for decades but has its origins in the US. At the turn of the 20th century, marketing man Edward Bernays was commissioned by a bacon company to help sell more of its product. Edward researched the medical fraternity to whether there was appetite for a larger, healthier breakfast than the standard coffee and roll that was popular at the time. And there was, with doctors urging people to eat bacon and eggs in the morning, "the perfect hearty breakfast", leading to a surge in bacon sales and the establishment of the now classic bacon and eggs.
To get the best out of your streaky, middle or loin bacon, we suggest starting with a cold frypan – this allows the fat to render slowly as the pan heats up and the bacon cooks. If you want to cook bacon without the fat, do it in the oven on a rack (with a drip tray of course!). That way the fat will drip and drain, then put it on a paper towel to soak up any excess left. Remember, bacon is high in protein so will leave you full and happy.
So let your imagination run, create bacon dust to sprinkle on eggs, or wrap it around scallops on the barbecue. Or treat the family to the best bacon with free-range eggs. A simple, delicious meal that says welcome home like no other.