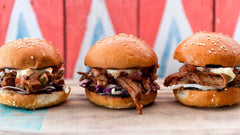 Slow-braised lamb shoulder is always a winner and so versatile. The rich flavours of soy and kecap manis make these sliders addictive.
Need lamb shoulder? Shop here
INGREDIENTS
- 2 tbs sunflower oil
- 1.8-2kg lamb shoulder, on the bone
- 2 onions, thinly sliced
- 6 garlic cloves, finely chopped
- 2 tbs freshly grated ginger
- 1 tbs plain flour
- 2 1/2 cups (625ml) lamb or beef stock
- 2/3 cup (165ml) soy sauce
- 2/3 cup (160ml) kecap manis
- 1/2 cup (175g) oyster sauce
- Finely grated zest and juice of 1 lime
- Handful each of mint and coriander leaves
- 2 spring onions, finely shredded
- long red chilli, cut into thin strips
METHOD
1) Preheat the oven to 160°C. Heat the oil in a flameproof casserole over medium-high heat. Add the lamb and brown on all sides. Remove lamb and set aside
2.) Reduce heat to medium-low and cook the onion, garlic and ginger, stirring occasionally, for 5 minutes until softened. Stir through the flour, then add the stock, sauces, zest and juice. Return lamb to casserole, cover surface closely with baking paper, then cover casserole with a lid.
3.) Transfer to the oven and cook for 4 hours. Remove lid and baking paper and cook for a further 35-40 minutes until lamb is tender and starting to fall off the bone.
4.) Transfer lamb to a plate and rest, loosely covered with foil. Skim any fat from the surface of the sauce. Place casserole over medium-high heat and cook for 5 minutes or until sauce has thickened slightly.
5.) Combine the herbs, spring onion and chilli in a bowl and gently toss to combine.
6.) Cut or tear the lamb into chunks, then discard the bone
7.) Serve the lamb in fresh sliders with a simple salad. Drizzle the sauce over the lamb just before serving.